Learn how to have an elephant experience, on your next trip to Thailand, and do it the ethically and responsible way. Travel to the 1st ethical elephant sanctuary in Phuket, Thailand, and support these amazing animals.
If you're an elephant fan like myself, having an ethical elephant experience is something that you don't want to miss!
What could be better than being able to visit and experience elephants, in a way that is beneficial to them? You learn so much and get to observe them interacting in a natural environment. You will not be causing them harm, or supporting exploitation, and be fulfilling a dream, all at the same time!
Pin this for later!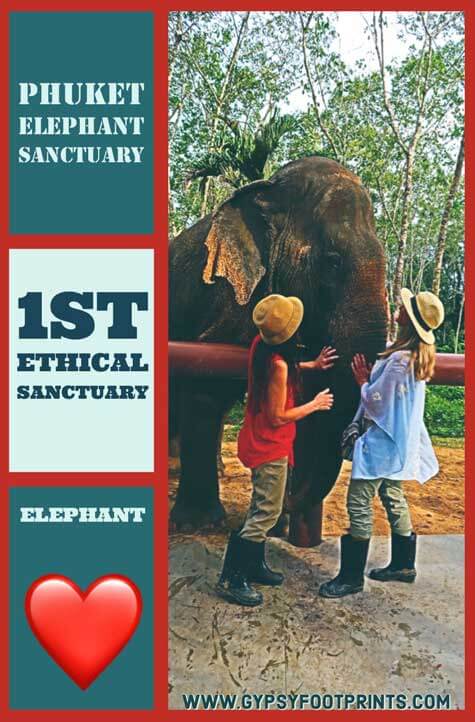 Helpful Information: Phuket Thailand
Size: 543 square kilometers or 210 square miles, not including the islands.
Currency: Thai Baht
Climate: Lush and Tropical; Average temps: 75F to 90F | 24C to 33C
Dress: Phuket is an island destination known for its beaches, in the West. Tropical jungle in the middle, and a casual city vibe in the town center.
Language: Thai and (English in the tourist areas)
Say, Hello: Sawasdee (sah-wah-dee-kah; women) (sah-wah-dee-kop; men)
Say, Thank You: Khaawp-khun (kop-kune-kah; women) (kop-kune-kop; men)
Phuket Elephant Sanctuary:
In this article, I'm going to highlight my experience at Phuket Elephant Sanctuary. I'm also going to explain some things you can look for when researching elephant experiences, by providing a helpful list of questions you can ask, how you can find the best most ethical elephant experience, even if it is not in Phuket, Thailand.
The information I'm giving you can be used to find other ethical elephant experiences and can be translated and used to travel and experience other animals in your travels around the globe, where elephants are found.
History of Elephants:
Elephants are the largest mammals that roam the planet today. Weighing in at 6 to 13,000 lbs, or 4 to 6 tons. Elephants have been used for centuries in so many different cultures, but the species today is dwindling, and only a handful remains.
According to The World Wildlife Foundation, the population has diminished to half of what it was at the turn of this century, and they have become extinct in certain areas of the globe, where they once thrived.
One of the largest exploitations today surrounds the tourism industry.
They are an easy target because they are so rare, and a novelty, for people, that aren't lucky enough to live in an area where they thrive.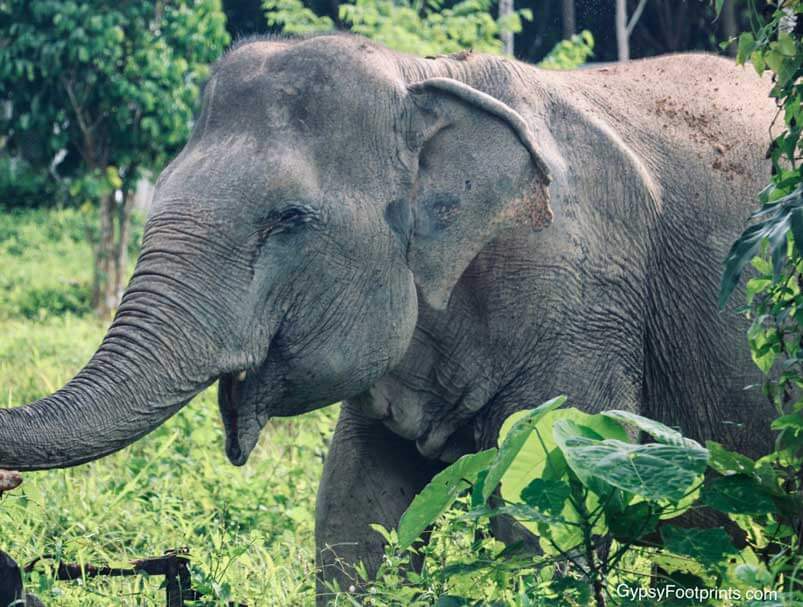 This is "Gaew Ta." Her name means "Darling," in Thai. She is a 50-year-old blind elephant, who lives at the sanctuary. We were told that she is now blind from having her eyelashes trimmed! Elephants have a third eyelid that acts as a protectant from dust and dirt. Many animals have this including dogs, although in dogs it is mostly invisible.
Elephants are commonly seen being used to give tourists rides, perform for photos, and do tricks. Most often these things are done in return for the elephant getting food or some other kind of reward. The problem that most people don't realize the type of training that goes into making these animals be able to perform these tricks.
Young elephants are placed in cages, confined with their limbs restrained and stretched out, held by massive chains and ropes. They are poked prodded, beaten, yelled at, and starved. I know that I never want to knowingly support something like this, and I hope that you as a responsible tourist wouldn't either.
Phuket Elephant Sanctuary:
All of the elephants at Phuket Elephant Sanctuary are rescues. They have been saved and retired from lives of working in the logging industry or tourism industry. The elephants are mostly older females 50 years old and above. They have been brought to the 30-acre sanctuary to live out the rest of their lives in as close to a natural environment as possible.
This elephant sanctuary was founded as a partnership between two individuals seeking to make a difference. Mr. Montri Todtane was a former elephant camp owner, who found a way to help these creatures live a happier and healthier existence. A brief personal bio can be found on the about us page here, on the Phuket Elephant Sanctuary website.
Lek Chailert is the founder of the "Save the Elephant Foundation," and the "Elephant Nature Park," in Chiang Mai. You can learn more about her work by following the above two links.
Getting There:
Upon arriving at Phuket Elephant Sanctuary you will arrive at the office on one of the main roads, Paklok. This is about a half hour drive from the center of Phuket.
Transportation is easy to arrange, either through your hotel or guest house. The elephant sanctuary can also arrange transportation as well, but this is a bit more expensive. You can also always find transport on the street pretty easily. Just agree on a cost before getting into the vehicle.
It's helpful to google the average baht that is expected to be paid for that journey easily, so you can make sure you are paying a fair price. It is worth it to mention, that there are usually two prices to be paid when traveling in some less developed countries, that don't regulate pricing.
One price for locals and one price for tourists, that is usually a little higher! Airport prices are traditionally higher. Again, do your research. Google is your friend. Inevitably you will find yourself overpaying at some point until you get used to, and find out the prices of things. So definitely do your research.
The price for a taxi from the airport to Phuket Town was around 400 baht when this article was written.
There is a small air-conditioned waiting area or a small area to sit outside, with benches. Once the group has arrived you receive a brief orientation, before heading to the sanctuary, which is a short drive away.
You will be transported to the elephant sanctuary in an open-air jeep with benches facing each other on either side and a covered rooftop. The jeep is reminiscent of the type of vehicle you would envision being used while on a safari in Africa; something you've likely seen in movies.
The sanctuary encompasses over 30 acres of jungle forest area in a more rural part of Phuket Thailand, close to Khao Phra Thaeo National Park.
Tours offered:
There are two tours offered per day, and you cannot drive into the sanctuary independently. If you happen to miss your meeting time for your tour, they will start without you but can transport you to meet up, with your group, wherever they happen to be. I don't recommend missing anything though, because everything was so great from start to finish.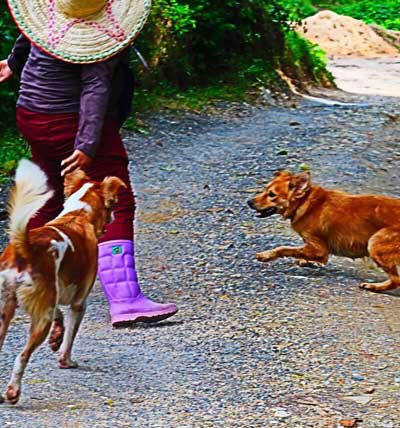 Upon arriving you are greeted at the entrance by your tour guides, and typically a friendly group of rescue dogs, happily delving out kisses and looking for a few pats to the head. In addition to elephants, the sanctuary is also home and refuge to a few stray dogs, as well as pigs and chickens.
The entrance is a beautifully and artfully designed, sustainable, wooden walkway, crafted from renewable resources such as bamboo, and palm frond covered thatch roofs. Benches are purposely crafted onto the sides of the walkway to provide a restful and peaceful stop. It is here you can enjoy the gardens beyond, listen to the sounds of the jungle and soak in the atmosphere of the sanctuary

Accessories & Essentials Provided:
After walking down the beautiful covered wooden walkway to the main area, you come across an area where there are lockers to the left. It is here where you can leave extra belongings that you do want to lug around. There are guides and assistants here to dole out an assortment of laundered socks and wellie boots so that you don't muck up your personal shoes, as you walk and track around the grounds of the sanctuary. It gets muddy!!!!!
If it is raining the tour goes on, and they provide umbrellas for your comfort, and of course, you will be booted up with your rubber wellies. We were fortunate enough to not need umbrellas, but it does rain fairly often. There is actually a beautiful rain forest and reserve right up the street. This is at Khao Phra Thaeo National Park in Thalang. Bang Pae Waterfall is known as Phuket's largest waterfall but is actually quite small compared to other waterfalls Internationally.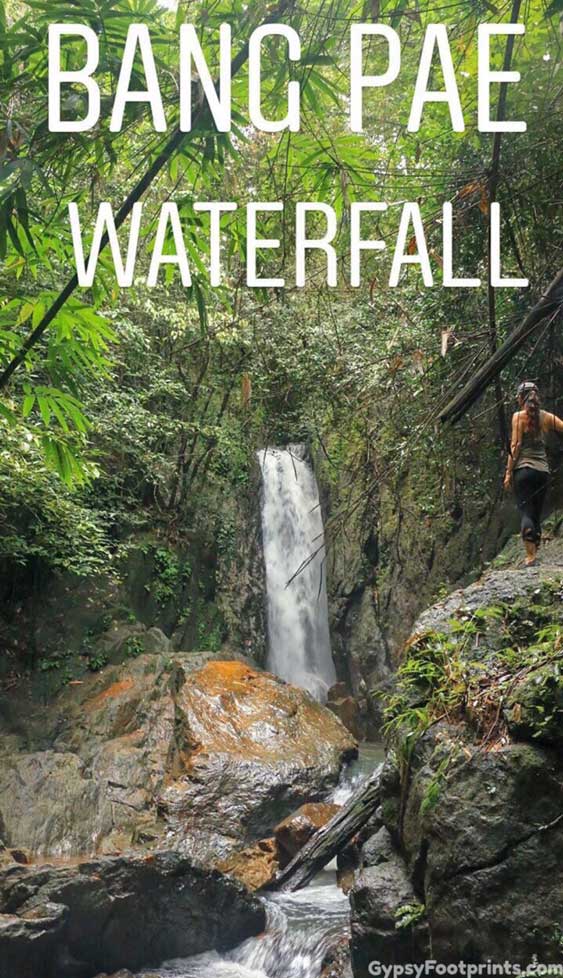 It should also be of note that the sanctuary is wheelchair accessible. The morning tour offers an area to feed the elephants as well, that is close to the main lobby area and wheelchair accessible. There are golf carts that can be used for those that are not able to walk or feel confident on their feet.
Food and Drink:
You are greeted with a welcome station of snacks, including local fresh fruits, and an assortment of refreshments. This will be a welcome surprise, after coming in from the jungle heat. This area is built on a platform overlooking the jungle with a Buddhist meditation statue with flowers, a water feature, and offerings on the side.
When you are finished with refreshments, and you are a bit more settled there is a short and powerful movie about the organization. You will learn about the abuse and plight of the elephants and why we need to do all we can to help save the species.
Water Therapy Pool:
Now you are ready to go explore and meet the elephants! My favorite part!!!!! My adrenaline was pumping I was so excited! Our tour went to the water therapy pool first, but I'm sure the different tours and groups follow a different schedule. We got to meet two older elephants, that were soaking in the saltwater pool.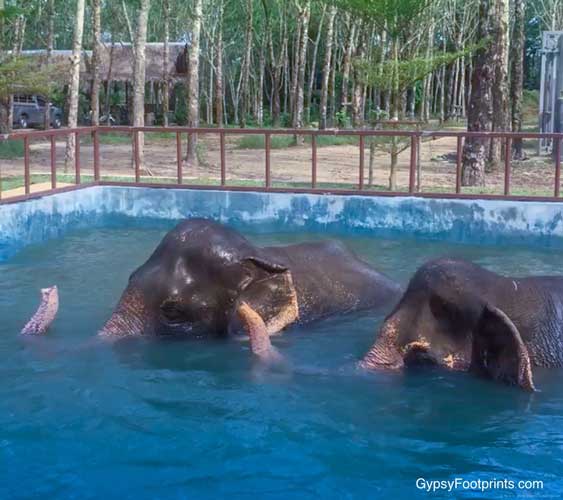 The therapy pool was actually built for these older elephants, to help relieve the pressure from their joints. The older elephants are not able to lay down, because they can't get back up. The pool offers them a weightless solution to relieve some of this pressure.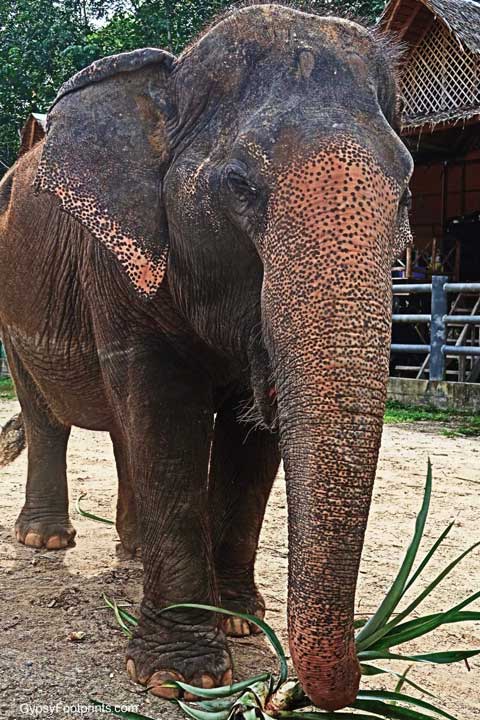 We also met another elephant eating some palm fronds in another area, close to the pig and chickens. We then walked around and met some of the other elephants on the grounds of the sanctuary.
When it is time for lunch they offer an amazing vegetarian/vegan spread of delicious Thai food, with desert and multiple fresh juices and teas. The Sanctuary also provides dinner, which I was not expecting.
They have a great little gift shop in the main area, beside the locker area and restaurant. Proceeds, of course, go to benefit the elephants, and I wanted a keepsake for this amazing experience. I always get my mom an elephant keepsake from Asian countries that I travel to.
Volunteer at the Sanctuary:
Phuket elephant sanctuary also offers a volunteer elephant experience. These range from 1 day to 3 days to 1 week. Accommodations are provided nearby with a private bathroom and restaurant on-premise. There is a convenience store within walking distance and several other eating options, although a breakfast, snack, lunch, and dinner are also provided at the elephant sanctuary.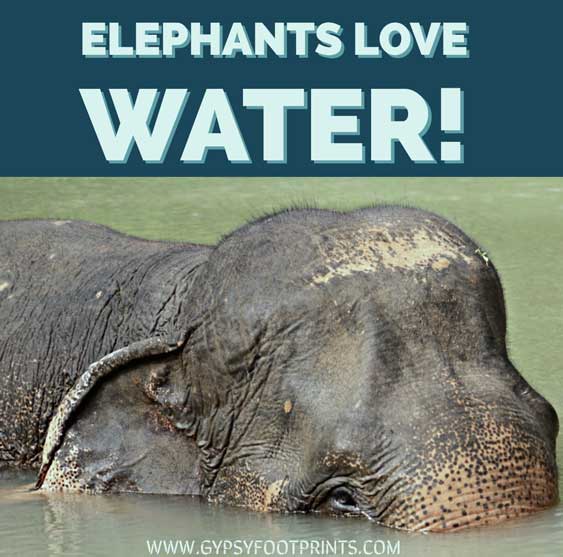 Elephants and Water:
Elephants in the wild love water and like to frolic and play with fellow elephants. Not being constrained by allowing tourists to bath them and take photos, gives them the opportunity to behave like elephants, and do what elephants do. This way you can observe them, acting like elephants. Their guard is down and they can essentially be themselves.
The only bathing experience provided is a viewing experience. Most ethical places are moving away from bathing the elephants. They are trying to provide the elephants with the most natural experience as possible.
It is really refreshing to see, and you can feel how happy they are to take a nice cool dip in the refreshing water, cooling off from the midday heat. When adding the element of people into an elephant bathing experience, it can cause undue stress on the elephants. This gives them the opportunity to relax and be themselves.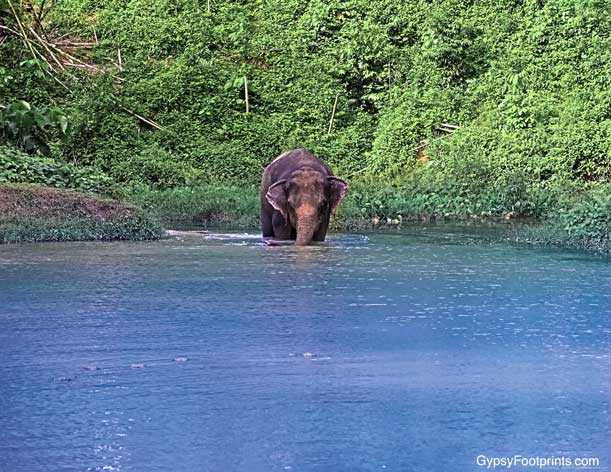 Feeding the Elephants:
This can be a controversial subject to some concerned about having a completely elephant centered experience. All of these elephants are rescues. They have all been rescued and saved from lives of work, in one form or another, so because of this, they are partially domesticated. They love eating! I don't believe that the elephants receiving food that you hand them into their trunk, violates an ethical experience. They are not performing or doing tricks in order to receive food. Plus its absolutely amazing experience to get to be that close! Go see for yourself!!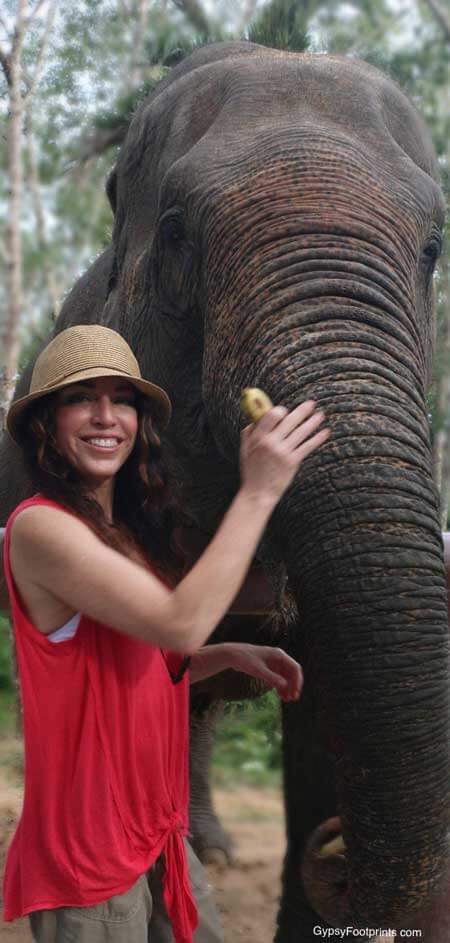 Here is a list of research and questions that you can ask yourself when reviewing an ethical elephant sanctuary.
Research and Questions:
What are my personal goals for an elephant experience?
Do I have the elephant's best interest in mind?
Are these animals being ethically and fairly treated?
Where did these animals come from?
Are these animals rescues?
Where are the animals kept during the off-time?
Are these animals safe and treated fairly?
Are they taken care of? Fed properly? Given a safe area to rest?
What types of elephant experiences do you support and offer?
Are these ethical experiences for the elephant?
Who takes care of the elephants?
Wrapping it up:
If you decide to seek out other alternative sanctuaries and rescues, please do your research. There is a wealth of information here at The Global Federation of Animal Sanctuaries. They provide a large PDF of standards for elephant sanctuaries, in this link. There are many other ways that you can check out these places online by looking at unsponsored reviews, from reputable sources. TripAdvisor is always a great resource, as they have many unbiased reviews. There are some larger brands active on there, but you can get a pretty good feel for a place by seeing how many reviews they have and comparing the positive vs. negative experiences. I've linked my profile above for your convenience, but as always do your homework, and ask questions.
Phuket Elephant Sanctuary is an amazing example of an ethical sanctuary and the first of its kind in Phuket. The popularity of ethically and responsible tourism is now becoming something that travelers are seeking out. If you decide to have an animal experience while visiting Thailand, I hope that you decide to make it an ethical one. One that you will look back on and remember, that you were a part of making a difference in the life of an animal. One that may not have been so fortunate, but is now because of your support.
Pin these for later!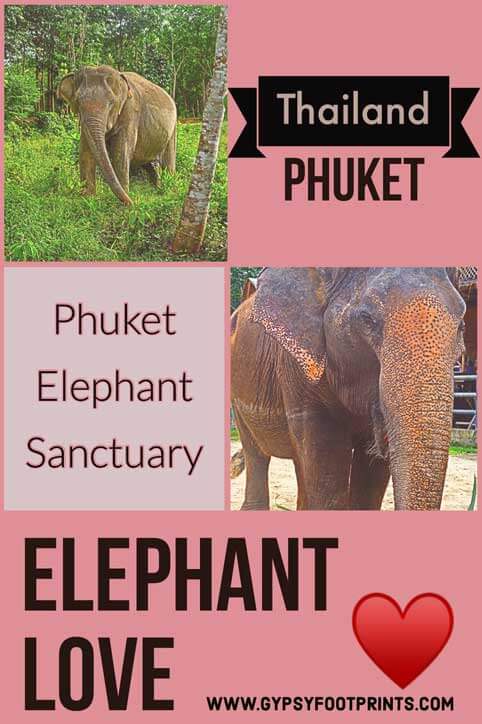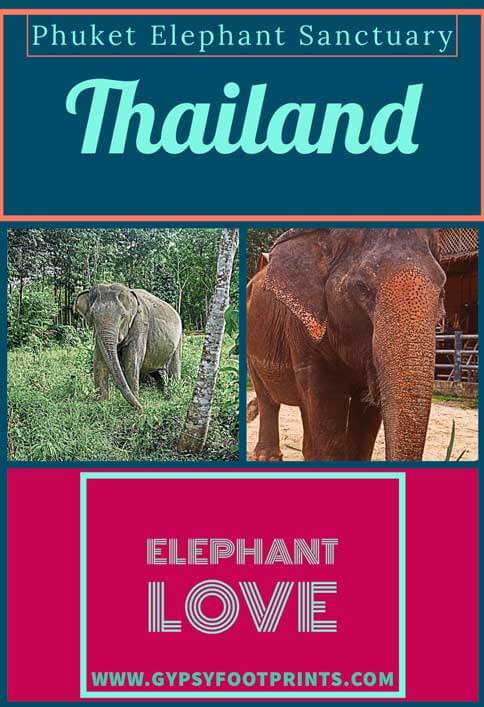 Thanks again for reading! You can leave comments or any other helpful tips and suggestions below.
~ Mary Cate XOXO
If you plan on visiting Phuket island, while traveling in Thailand, and want to visit elephants or help spread the word about responsible ethical travel, please consider sharing this with your friends!
Sharing is good karma!